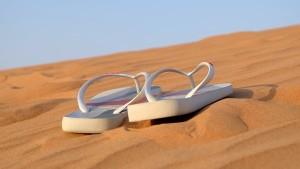 4Now that the summer is in full swing and there doesn't seem to be any indication of things cooling off, what gadgets are newly available that can possibly counter the sweltering heat?
Well we do want to try and enjoy the summer even if it's hot. There are the beaches, the outdoors, the pools, etc. But there must be a way that gadgets can alleviate the heat, make the sunshine more bearable and overall the summer holidays a more pleasurable experience? Well, yes, there is. And in this article we look at just a few.
First, there is the SuperStar BackFloat. This waterproof floaty can be used at the beach, in the hot tub or even the bath when the colder nights descend. It has a speaker with shockproof casting that can cope with even the craziest of weathers and adventures, and its built-in Bluetooth speakerphone can be used for those who can't bear to be disconnected for longer than 10 minutes.
Next up are the BackBeat Fit wireless headphones from Plastronics. These wrap around one's neck and weigh hardly anything. They also stay in place no matter how crazy your activity is. Their battery life is very long – between 5 and 9 hours – and retail at around $150 from Apple.
Finally the Connected Bikini is pretty cool. Featuring a smartphone app and UV sensor no need to worry about forgetting to reapply sunscreen or seek out cooler climates. You'll get that reminder from this gadget and it's not even a one-size fits all get up as it is programmed to identify all types of skins. Manufactured by Spinali Designs and retailing at around $170.