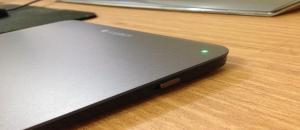 When it comes to filling one's home with great gizmos and gadgets, one can really start breaking the budget.  So that is why we are sharing some innovative ways of filling your home/office with these cool gizmos and gadgets without getting a call from your bank manager.  All of these awesome gizmos and gadgets retail at $25 or less.
Not quite a gadget (or gizmo) but still something fun to add to your tech world, Logitech's Wireless Keyboard K360 can add a bit of glamour and excitement to one's everyday world.  Working with Logitech's "unifying" wireless USB dongle (that also operates with a Logitech mouse), this keyboard runs great equally with both Macs and PCs. It's convenient, compact and packed with power (boasting a three-year battery life).  It also features 6 hot keys and 12 programmable F-keys for immediate access for favorites like music, web, etc.  The keyboard gets its gizmo-ness from the fact that that it can be plugged straight into one's Notebook and other devices.
Want a cheaper way of listening to your music than the iPod Shuffle?  Check out the Philips GoGear SoundDot, retailing at $23!  No USB stick is needed; to operate just plug right into your computer, drag and drop.  This is a must-have gadget at a fraction (half to be exact) of the price.
Then there's the Nomad ChargeKey which is fabulous for those times you're out all day and run low on battery – typical for iPhones – but still need your mobile device.  At the size of an iPhone it's no big deal to stick it in your travel bag and it gives you the opportunity to be connected and charged throughout the day! Again, a steal at $25.
Finally there's the Anker USB Car Charger – for a mere $12 – that is able to charge two mobile devices simultaneously, while you're driving!
There are plenty more gadgets and gizmos are superb prices. So if you want to step up the tech-cool ladder but remain within budget, go for $25 or less gadgets and gizmos and keep everyone happy and powered up!