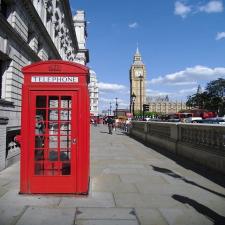 Communication technology has come a long way in the last century-and-a-half.  One hundred and fifty years ago, on April 4, 1889, President Benjamin Harrison sent out his first typewritten letter to Charles F. Heller.  This letter today can be found at the Shapell Manuscript Foundation.  He wrote:
My Dear Sir:
I take pleasure in acknowledging the receipt of your favor of the 2nd inst. and also of the box made of olive wood. I beg to express my appreciation of this finely executed specimen of your workmanship, and of the friendly spirit which prompted you to make and send it to me.
Very truly yours,
Where are we now?  We've bypassed the typewriter, and no longer have to wait to receive a letter.  Email and the internet have advanced technology in leaps and bounds.  But it seems like this progression just keeps on going.  On April 4, 2014, Qualcomm publicized the technology it has developed that very soon, could be able to triple Wi-Fi speeds throughout networks.  This technology – called "MU-MIMO" (multi-user, multiple input, multiple output) – has been seven years in the making.
Technology is constantly on the move.  Communication between people around the world these days is so instant…and it is becoming even more immediate.